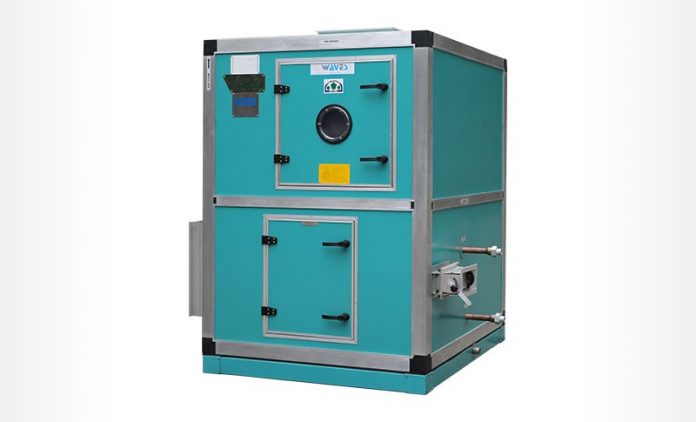 An air handler, or air handling unit (often abbreviated to AHU), is a device used to regulate and circulate air as part of a heating, ventilating, and air-conditioning (HVAC) system.
An air handler is usually a large metal box containing a blower, heating or cooling elements, filter racks or chambers, sound attenuators, and dampers. Air handlers usually connect to a ductwork ventilation system that distributes the conditioned air through the building and returns it to the AHU. Sometimes AHUs discharge (supply) and admit (return) air directly to and from the space served without ductwork
Waves Aircon Pvt Ltd, is a pioneer brand in the manufacturing of this specialized product. Building customized AHU specially suited for customer's requirement is a specialization that Waves Aircon has always boasted off and is market leader in India and an established exporter. With state-of-the-art manufacturing infrastructure, spread over 2,00,000 sq. ft. area and a highly skilled and efficient workforce, Waves Aircon maintains highest standard possible in the manufacturing process of AHU and all types of Air management system solutions as per international norms.
"Commitment to Quality and Customization", being the foremost criteria in our every single product, is further exemplify by our ISO 9001-2015 certification and the prestigious AHRI certification, which has been awarded to us for achieving 100% success rate in Forced Circulation Air-Cooling and Air Heating Coils.

Waves Aircon Pvt Ltd is the only company in India to be awarded Certification from EUROVENT- A leading European certification body in the field of HVAC-R. Eurovent acts as a certification body accredited by Cofrac-Accreditation 5-5017 and Eurovent Certita Certification fulfills the requirements of the EN ISO/CEI 17065:2012 standards. This certification is self-explanatory regarding the highest standard of quality that we maintain at our premises.
Innovation is at our core. Sustainability is our character. And perfection is at the top of our minds. We are a manufacturing company with a drive to develop quality and customized solutions for the clean air challenges. We play in active part in our surrounding. We always add value to what you do and to what we can do together. We have always built strong partnerships with all our customer, suppliers. We thrive to bring quality products, cutting-edge research and development and world-class components at your service.
For any requirement and details of specific product, please visit our website www.wavesaircon.in to view the complete product list or post your query at care@wavesaircon.in