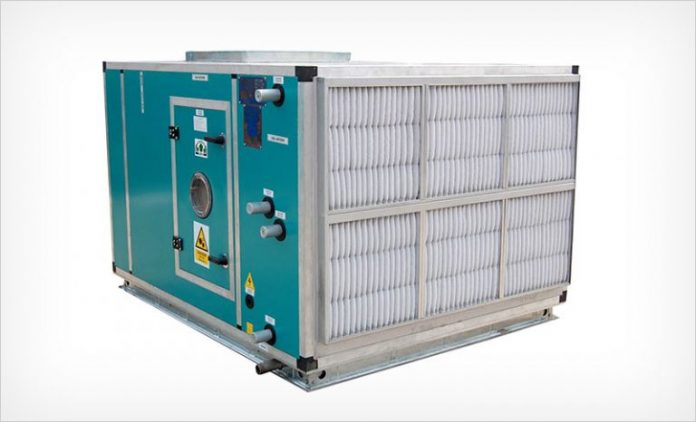 We all know the basic fact that direct exposure of UV (Ultraviolet) lamp can be hazardous, especially to skin and eyes, but when the same UV light is exposed in right conditions, controlled exposure and systematic installation, it can be a bonafide source of a fight against virus and bacteria.
An AHU system, with the right combination of features installed, can work as a blessing when it comes to the control of disease transmission and infection.
Waves Aircon Pvt Ltd, an ISO 9001-2015 certified company and holder of the prestigious AHRI certificate for achieving 100% success rate in Forced Circulation Air-Cooling and Air Heating Coils, are doing the same thing, combining all features inside the AHU for maximum output and maximum security against airborne virus, and bacteria. Based at the industrial hub of Rajasthan, India, Waves Aircon Pvt Ltd is spread over a sprawling 2,00,000 sq. ft. area and equipped with state-of-the-art manufacturing infrastructure and a highly skilled and efficient workforce, working steadily to provide all type of air management system solutions differentiated through innovation and service; an ethos that has a great deal of synergy with their vision.
Apart from other new technologies being implemented in their design, Ultraviolet Lamp is one of the consistent technologies which is being used over the years and has produced some remarkable result. In the current COVID-19 period, this holds more importance, as with the multiple benefits of Ultraviolet lights.
UV Lamp has some impeccable features, if used systematically, can give wonderful result and are extensively used in AHU for reduction of bacterial load on the cooling coil. The use of Ultraviolet Lamp reduces mold and algae formation on the cooling coil. Apart from this there are many other benefits, namely,
Kills bacteria, viruses and germs
Controls other allergens
Removes Volatile Organic Compounds
Reduces smells and odors
Maintains a cleaner AHU unit
Reduces maintenance requirements
Lowers monthly expenses
UV light for AHU promotes healthier living and operational efficiency.
UV Lamp disinfects the air we breathe and at the same time reduces energy consumption and the process is not one time but goes on and on. Inside the complex, the treated air revolves and each time the air comes in contact of UV light, it automatically gets treated for above threats and the overall result is the purest and high-quality air inside the premises. UV lights work as a cleaning agent, of bad microorganisms. Ultra Violet light disrupts the DNA of the germs and the virus ultimately loses its capability to multiply. Since the process is on the repetitive mode, chances of regeneration of germs are reduced to the minimum.
Hospitals, healthcare facilities and even office buildings have adopted UV light for HVAC. Studies have proven that UV light systems are highly effective in reducing microorganisms as they pass through Ultra Violet light rays. Reduced microorganisms mean less transferred illness.
Along with keeping sickness from spreading, UV light may be the last defense against bacteria and viruses that have become drug-resistant. Killing harmful microorganisms at their source will promote wellness and overall health.
In addition to improving indoor air quality, UV lights can yield other benefits as well, when installed in a building's air handler including maximizing AHU system efficiency, thereby reducing energy use and costs.
For more information on the usage of Ultraviolet Lamp in AHU systems, as well as other applications, please contact care@wavesaircon.in or visit www.wavesaircon.in