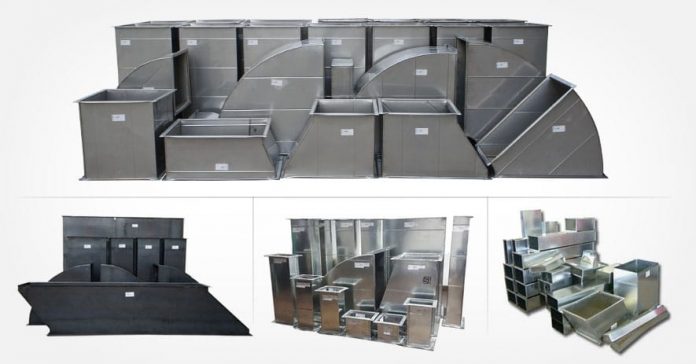 In any HVAC system, ducts constitute the entire circulating system. Ducts are channel or passages used in Heating, Ventilation, and Air Conditioning (HVAC)to give direction to airflow, which includes, supply air, return air, and exhaust air. Ducts are also commonly used to deliver ventilation air as part of the supply air.
Waves Aircon Pvt Ltd, an ISO 9001:2015 certified company, and a leader in HVAC & AHU manufacturing, specializes in manufacturing specialized ductwork for their use in AHU and HVAC inside their own premises.
With a modern, state of the art manufacturing unit, Waves Aircon is capable of producing all types of ducts and is a leading manufacturer of air ducts. During the production of an AHU, and keeping in mind the specifications required for the premises, it becomes far easier to integrate all the minute details of ducting, during the time of production, such as, planning (laying out), sizing, optimizing, detailing, and duct design, to name, a few.
Ductwork channels conditioned air to vents, takes return air back into the system, and transports exhaust air and waste heat to the exterior of your home. Ducts serve a triple purpose: They carry warmth in winter, hold cool air in summer, and provide ventilation for better indoor air quality throughout the year. Because they're in use almost every day, your ducts need occasional maintenance to improve the longevity of your heating and air conditioning equipment and if we are talking about the best quality ducts which serve and includes all parameters, then Waves Aircon is the name for it.
Customized to suit all the requirements and specification, Waves Aircon produces all types of ducts:
Rectangular Ducts
Stainless Steel Ducts
GI Ducts
Pre-fabricated Ducts
MS Ducts
Aluminium Ducts
Having inhouse R&R facility inside the manufacturing premises, the production of duct job with specific parameters makes the entire process very simple, yet highly technical and as per all prescribed parameters.
Some of the special features, that are worth mentioning are:
Manufacturing capacity of 1,50,000 SQMT/ Annum
Fully Automatic complete duct line
Automatic corner insertion
Pittsburgh Joints sealing with Wisper Sealing Machine For Low Leakage
Pre-Insulated Duct with Nitrile Fire Retardant as Optional
Offering Environment Zero Spangle and Lead-free Sheets
All Design Assistance
For our complete product range, please visit our website www.wavesaircon.in or post your query at care@wavesaircon.in