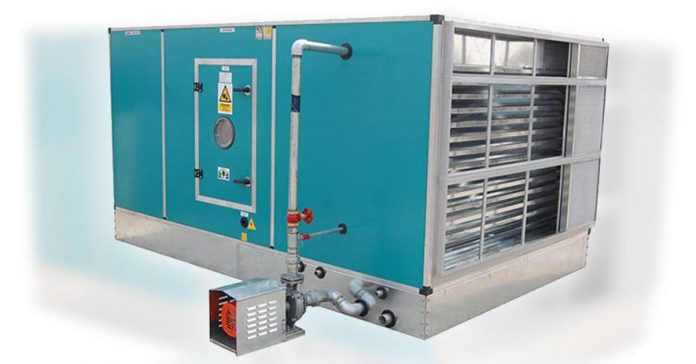 Waves Aircon Pvt Ltd, an ISO 9001:2015 certified company, is a leader in HVAC & R industry, believes that clean and optimized air is the fundamental right of everyone and is the key to healthy living and a productive working environment.
Founded in 1997 and AHRI certified, Waves Aircon has made innovation and customization, a routine process in their manufacturing. Amongst the numerous designs and segments of AHU, the Evaporative Cooling Unit/ Scrubber Unit is one of the specialized and customized products, that is in high demand.
Evaporative Cooling Units have found their wide application in modern agriculture, such as poultry farms, greenhouses, mushroom farming, and also in central air-cooling systems.
These 2 in 1 Humidifier & Purifier (Air Washer) washes and humidify the air at low installation, running, operational, and maintenance costs. It is a piece of very cost-effective equipment in high heat generation areas, easy to operate, handle, maintain, eco-friendly, and best for a healthy environment.
Waves Aircon customizes this product, exactly to the customer's specification. Some of the special features of this product:
Frame/Panel: Single skin, high grade galvanized steel frame/panel duly treated for outdoor duty.Double Skin, self-supporting extruded aluminium profile, PUF injected panel 25 mm thick.
Fan/Motor deck: DIDW forward/backward curve dynamically balanced fans and motor assembled on extruded aluminium profile and mounted on Vibration isolators.
Spray Deck (Scrubber): The wet deck contains double bank spray arrangement with brass nozzles and 4 bend eliminators to remove carbon and oil from exhaust air.
Water Storage: Water storage tank of galvanized sheet, FRP lined (optional)/ S.S-304/ Aluminium provider connections for water make up, overflow, drain and re-circulation with brass strainer.
Air filter: Air filter section designed and properly framed, containing washable air filters of expanded aluminium media.
Finish: Powder coated/ pre-painted finish unit provided for outdoor installation.
Evaporative Cooling Unit/ Scrubber Unit, manufactured by Waves Aircon, comes with loaded advantage of low installation cost, low operational cost, effective in high heat generation areas, easy and inexpensive maintenance and the best of all, Healthier system, since it works on 100% fresh air.
For our complete product range, please visit our website www.wavesaircon.in  or post your query at care@wavesaircon.in