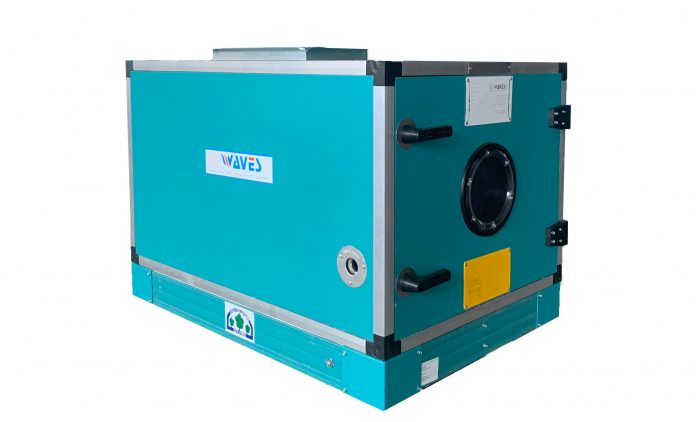 It would be an understatement to say that COVID-19 has discombobulated the way we live, in this last 4 months, rather it has fundamentally altered the way we lead our lives – how we work, travel, exercise or relax. Slowly and gradually, we are trying to regain our life, getting over our abhorrence, as is the human nature. We always evolve out of a situation and work our way around.
In the amaurotic war against the deadly virus, (amaurotic because right now we do not see any end to this) governments, scientists, doctors, engineers are working relentlessly to provide levels of respite as per their excellence against this inconspicuous enemy. The unfolding health and economic crises are forcing government and companies to adapt.
In continuation and support of this fight against COVID-19, Waves Aircon Pvt Ltd, a leading manufacturer of Air Handling Units (AHU), working with their state-of-the-art manufacturing facility in Bhiwadi, Rajasthan, catering to both domestic and international requirements for last 23 years has also adapted and pitched in its bit against the fight with Corona Virus in this demanding and tough juncture.
In their profession of manufacturing specialized AHU for government projects as well as private projects, they have done some superlative and out of the box work in modifying some of their latest machines in such a way that these machine are now providing core support to the hospitals by making the environment inside the hospital premises germs free and keeping the air quality pure especially inside the Covid -19 wards.
These machines have been created specifically to be used inside the hospital and minute changes have been incorporated inside. We will run through some interesting details of one of the machines and its specific purpose. The other machines serve the same purpose but with different configuration which includes Double skin ceiling suspended Air handling Unit too.
| | | |
| --- | --- | --- |
| Machine | : | Double skin floor mounted exhaust Air Unit |
| Specification | : | 8500 CFM, Pre filer micro filter, 3-micron Hepa filter 0.3 micron and with UV lamp |
| Place of fitting | : | Outside the Covid -19 wards inside Shahdara Hospital, Noida. |
| Purpose | : | It neutralizes the infected air by sucking it out and the air is passed though inside of the machine though 3 Micron Hepa filter and UV lamp before releasing the treated air into environment. Thus, keeping the COVID-19 ward area clean and fresh at all time as well as the environment. |
These machines are installed and functioning at their full capacity inside Shahdara Hospital, Noida.
Waves Aircon is committed to serve the society and people.
We staunchly believe that "if we have to fight CORONA, let it be with SAMURAI Spirit"
 For any requirement and details of this specific product, please visit our website www.wavesaircon.in  or post your query at care@wavesaircon.in
 Let's grow together…